Hill Valley in 2015 | Back to the Future | Back to the Future 2 | Back to the Future...The Ride |
Back to the Future 4 | Back to the Future 5 | Blast from the Past | BTTF Trading Cards
Welcome to the Back to the Future III Section. Here you will find the script for Back to the Future III divided into 20 pages based on their scenes. They include pictures and interesting facts about the film. You will also find screencaps from every deleted scene from the movie, as well as some information about the DVDs. You can access these by using the Navigation Bar on the right.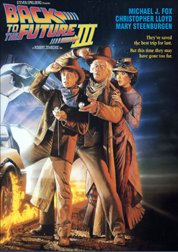 They've saved the best trip for last... But this time they may have gone too far.

Fulfilling a long-time fantasy, Doc Brown has decided to live in the Old West of the 1880s/ But when he's in danger of meeting an untimely end, Marty travels back in time to rescue him. There's just one problem: Doc is so smitten by schoolteacher Clara Clayton (Steenburgen) that he can't think straight! Now, it's up to Marty to keep Doc out of trouble, keep the DeLorean running, and keep the past, present and future on track so they can get back to where - and when - they belong! Filled with all the trademark Back to the Future gadgetry, action, imagination and humour, it's a spectacular finale to one of the most popular adventure-comedy film series of all time!