Hill Valley in 2015 | Back to the Future | Back to the Future 2 | Back to the Future...The Ride |
Back to the Future 4 | Back to the Future 5 | Blast from the Past | BTTF Trading Cards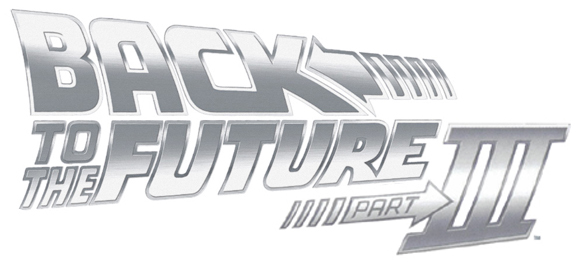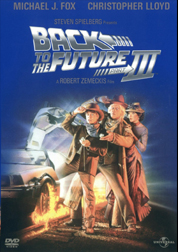 Fulfilling a long-time fantasy, Doc Brown has decided to live in the Old West of the 1880s/ But when he's in danger of meeting an untimely end, Marty travels back in time to rescue him. There's just one problem: Doc is so smitten by schoolteacher Clara Clayton (Steenburgen) that he can't think straight! Now, it's up to Marty to keep Doc out of trouble, keep the DeLorean running, and keep the past, present and future on track so they can get back to where - and when - they belong! Filled with all the trademark Back to the Future gadgetry, action, imagination and humour, it's a spectacular finale to one of the most popular adventure-comedy film series of all time!


DVD Released on December 17, 2003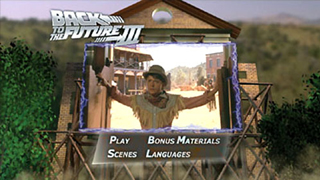 The Making of Back to the Future Part 3
Making the Trilogy: Chapter 3
A unique look back at the making of the film with Michael J. Fox, Robert Zemeckis and Bob Gale.
Desgining The Town Of Hill Valley
Featuring writer/producer Bob Gale explaining the design of the town.
Desgining The Campaign
Bob Gale discusses the original theatrical advertising and marketing campaign.
Outtakes
Hilarious flubs, bloopers and antics from the set.
Candid Q&A With Director Robert Zemeckis and Producer Bob Gale.
Feature Commentary With Producers Bob Gale and Neil Canton
Did You Know That? Universal Animated Anecdotes
Watch the feature film and see notes on over 150 fascinating facts, trivia, and mistakes.
Deleted Scenes with Commentary By Writer/Producer Bob Gale
Production Archives
Interactive environment enables viewing of hundreds of production photographs, original storyboards, conceptual art and props used in the film, including:
Marty McFly Photo Album
Behind-the-scenes Photographs
Production Designs
The Trilogy: Poster Concepts

The Secrets Of The Back To The Future Trilogy
ZZ Top Music Video "Doubleback"
Most Frequently Asked Questions, Answered
Theatrical Traile
DVD-Rom Features With Total Access Including The Original Script
Exclusive behind-the-scenes details, interview excerpts and more!